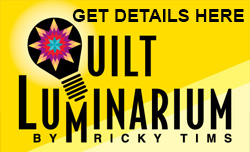 Stray Threads is excited to announce that Ricky Tims will be coming to Lynnwood, WA, August 15-16, 2020. Early Bird registration is happening now. Visit Ricky's website to register and learn more.
https://www.rickytims.com/quilt-luminarium/1925-lynnwood-wa
Special pricing available at the Lynnwood Embassy Suites for Friday and Saturday night. Please use code 409124 when booking. The reservation phone number is 844-231-3696.
Double non-smoking $187
Premium Double non-smoking $191